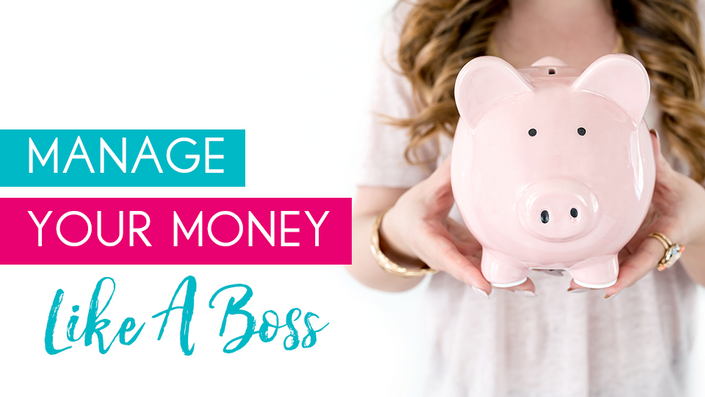 Manage Your Money Like A Boss
What you didn't learn about money in high school, college, or from your family.
Watch Promo
Enroll in Course
Have you ever thought to yourself…


"I'm not a math person. I'll just never be one of those people who gets it. I'll just hire someone to do this for me."
"I've tried budgeting and it just didn't work."
"I can't pay off debt. Are you kidding? I can barely pay my bills."

"I don't have the energy to look at my finances right now. This sh*t is seriously giving me anxiety."
You're not alone.
Like at all.
It's no surprise that money stresses us out. According to Forbes, 72% of people feel stressed about money. Yep, that means 7 out of every 10 people feel stressed about this stuff.
Frankly it's not entirely your fault. We live in a digital world where we are constantly being bombarded with advertising.
You're looking at a darling shirt on a website and start seeing it on your Facebook, Instagram, and sidebars of websites everywhere we go.
On top of being "stalked on the internet," we are all thrown to the wolves when we turn 18 and told to "just figure it out" when it comes to our finances.
It's sad that one of the most important pieces of our lives, our money, isn't taught in high school, college, or even our parents.
So we do the best we can. Maybe you listen to a few podcasts. Watch a few YouTube videos. Follow a few gurus.
And ultimately walk away feeling like you should be investing, paying off debt, building up a savings, living on budget, and trying to balance your life all at the same time.
No wonder you feel exhausted.
We are all just a small financial emergency away from a breakdown.
But what if I told you it didn't have to be this way?
No matter where your starting point is, how unfair your situation might be, how much debt you've accumulated or even what your current income is, one of the single most important skills you'll ever learn is this:
When you have control over your finances, you live a better, less stressful life.
Money is just a tool.
When used properly, it can feel like you are on top of the world and living a kick ass life.
When ignored it can feel like life is a non-stop shin kick.
I can't stress this enough. If you have been:
Struggling with your financial life,
Have much less in savings than you feel like you should,
Spend every month without a plan,
Are terrified of how much debt you have,
Feel like there is a hole in your pocket,
Have no emergency savings,
Zero dollars towards retirement,
Couldn't come up with $1,000 in a month if your life depended on it,
Would rather chop of your pinky toe than share your credit score,
Have a really pitiful net-worth,
Something has to change. The "flying by the seat of your pants" money plan isn't going to help you live your richest life
Confidently knowing exactly what to do with your money is a skill.
I know that learning how to manage your financial life is exactly what you need because I experienced this personally when I put together a financial plan that allowed me to purchase my first house when I was 19 years old, paid off my $30,000 student loan in 10 months, hacked my way to paying $472 for my MBA, and purchased a new-to-me car in cash, while taking 3 out of the country vacations each year.
I'm not a trust fund baby (quite the opposite).
I don't make a million dollars a year.
I simply learned how to manage money and want to teach you the same skills.
My strategies work and frankly, I know my sh*t.
I have personally worked with over 300 people, taught multiple financial workshops for corporate employees, spoke at dozens of conferences, being consistently featured as a top millennial blogger to follow, created an award winning podcast interviewing some of the brightest minds in the financial world, and was sought after to teach my curriculum to Boise State University.
Time and time again I see people struggle with money because they don't have a clear plan in place AND accountability to get them there.
It's incredibly heartbreaking to see people not learning the skill of managing their finances. I truly believe that figuring this money stuff out will transform your life in very powerful ways and want nothing more than for you to get a good system in place.
That's exactly why I created this course to help you shortcut through the all the BS, stop endlessly researching and wondering if you'll ever stop stressing about money and find a complete money system designed to help you win.
Introducing Manage Your Money Like A Boss
Everything you need to know about having a millionaire mindset, accelerating your debt payoff, living on budget without feeling like you can't buy coffee, building up your emergency funds, and planning for retirement.
Manage Your Money Like A Boss is an online course designed to get you results in your financial life- fast!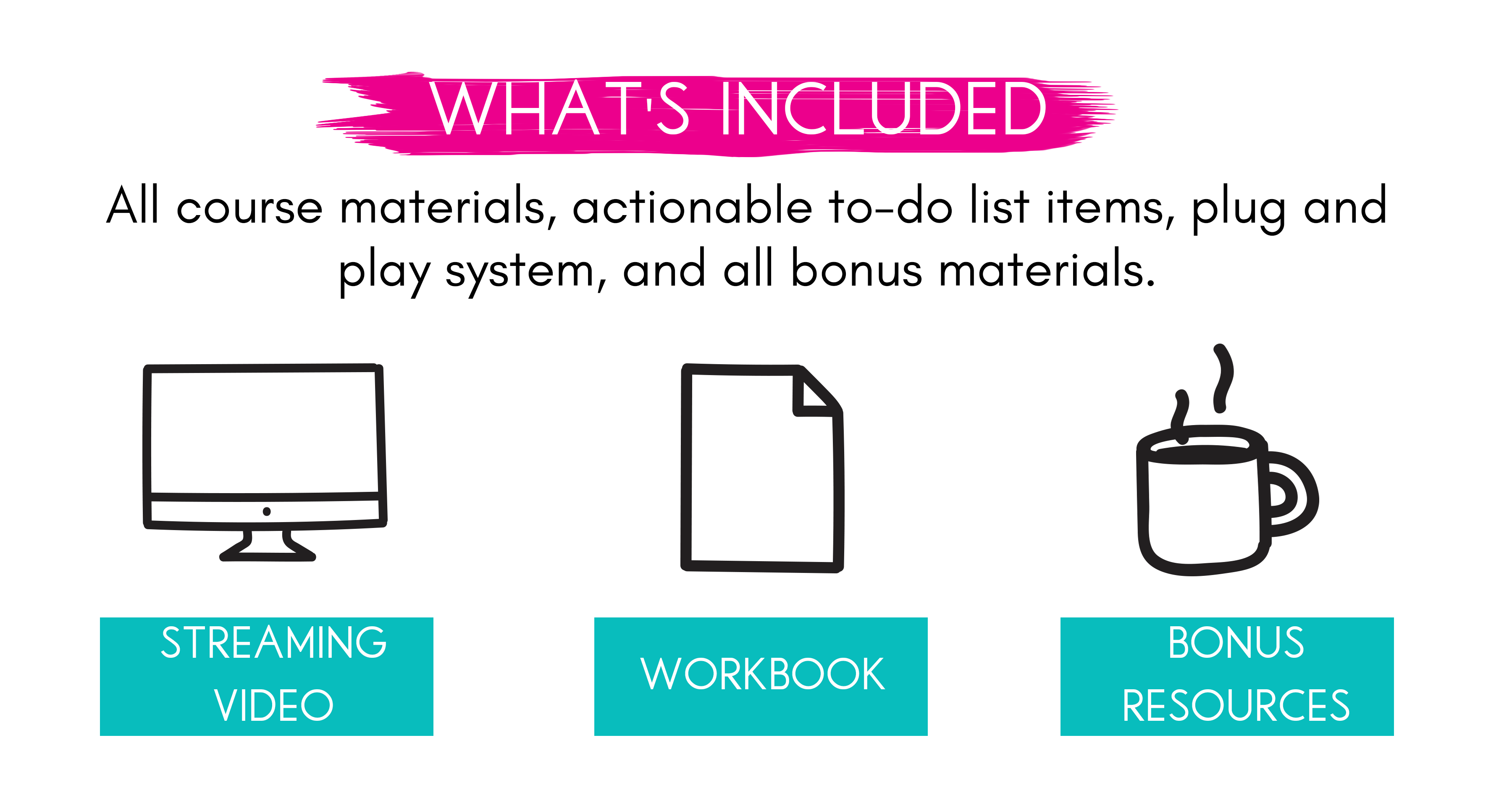 Here's exactly what you'll get
Module 1
Shattering Limiting Beliefs: Getting Your Mind, Body, And Soul Primed For Financial Success
In order to get sustainable results, you've got to ensure that your habits are not sabotaging your financial progress. In this module you'll learn:
How to live like the some of the most successful people in the world and start implementing the same habits that Oprah, Tony Robbins and Anna Wintour use
Breaking through the baggage of limiting beliefs that might be secretly holding you back without even knowing it (taking out the mindset trash)
Why your health is correlated to your financial results and which skills will help you win in both areas
Module 2
The Fundamentals
Roll up your sleeves and get ready to get nerdy with me. This module is going to help you put together the base of your financial plan. You'll discover how to:
Use the B word (budget) in your life as a planning tool to help you achieve your money goals faster than you thought possible
Get an accurate picture of your financial life, areas that you can improve upon, and exactly how you can start to make changes that will give you the biggest bang for your buck
Navigate and create a plan to boost up your emergency savings, the best place to keep your savings, and exactly how much money you need to set aside
Put your own comprehensive money plan together that includes two things guaranteed to get you results
Module 3
Debt free + money in the bank
This module is one of my personal favorites! After you understand the fundamental skills, you'll finally ready to start accelerating your debt pay off plan or putting some serious cash in the bank. In this module, you'll learn:
The best strategy to paying off debt quickly, efficiently, and saving thousands on interest
Why not all debt is created equal and how interest is calculated on different types of debts
Exactly when you will be out of debt (by using the Get Out Of Debt template)
How to speed up your debt free date by making small changes
My favorite ways of side hustle to make a little extra money so you can increase your savings or accelerate paying off debt
How to create a crazy big savings plan that allows you to say "F*ck off" - whenever you need, or just sleep better at night knowing you have money in the bank
Module 4
The Future
Ready to learn how to take your investing to the next level and start planning for future? This module will walk with you the next steps to helping you think about and start to grasp some concepts surrounding your "Golden Year." In this module, you'll learn:
Why retirement isn't only for when you're in your 60s
The best places to keep your retirement savings
How to think more strategically about your financial life and ensure that you're staying on track with your bigger picture goals
Enroll now to get these additional bonuses for free
Side Hustle Success
Ever get sick of being told to get a part-time job working retail to bring in extra cash? Or start a business that will eventually (hopefully) turn a profit. I know how frustrating that advice can be, so I put together a list of the best side hustles. 90% of these are from home on your own schedule.
These are side hustles that I personally have tested and approved for you to make a little extra on the side, and reach your financial goals faster.
($49 value)-- Free with this course
30 Minute Lifeline Call
As you go through the course materials and start implementing, you will undoubtably run into a scenario that you need an extra set of eye on. That's what the lifeline call is designed for. You will be able to schedule a time to hop on a complementary 30 minute lifeline call.
The call is actually with me. Together we will tackle whatever challenges you are facing.
($150 value)-- Free with this course
10 Money Apps That Will Save You Hours
Apps can be extremely helpful when it comes to managing your financial life. We both know there are a ton of choices, so I compiled a resource guide to the top 10 money apps I recommend that make paying off debt easier, gamify saving money, help you monitor your credit, help you invest without having to constantly monitor your accounts or be taken advantage of and overpay on investing fees and overall help you with the day-to-day financial management.
($49 value)-- Free with this course
Proof This System Works
Results vary, but here are a couple of the more "average" or typical results people have received when working with me and my courses.

Meet Emily
Paid Off $21,400 In 2 Years
Emily joined Manage Your Money Like A Boss almost two years ago. Since going through the course, Emily has paid off $21,400 in less than two years. She works full-time is a student and is still able to enjoy row little things in life.
Not only is she 100% student loan free, she is also getting dangerously close to paying off her car and credit card.
Meet Courtney
Paid Off $12,000 In 1 Year
Courtney joined the course with a very different perspective. She is a stay at home mom to three darling little ones. Courtney and her husband are working their butts off to pay off debt.
Since joining the course, they found ways to sacrifice using strategies from the course, and have paid off $12,000 in less than one year.
---
This is just a couple examples of real people with very different life situations that were able to take back control of their money, pay off significant amounts of debt and start living life on their own terms.
Whether it takes you one year or ten years, this course will be here to help guide you through the tough times and keep you moving towards your goals.
Let's Recap
Your purchase of Manage Your Money Like A Boss includes all 4 in-depth modules and the bonuses that will for certain help you gain results faster, including the lifeline call with me. I don't work with many people 1:1, so this is a rare opportunity within a great price range to get on the phone with me and get answers to your questions.
There isn't another personal finance course out that cuts through the BS, skips the jargon and was created from experience working directly with people from all different financial situations.
It's taken me four years of studying accounting, three years in business graduate school, and thousands of hours reading books, studying successful strategies, and trial and error in my own financial life to learn this stuff.
All of my education has been packaged into this course so you don't have to spend 7 years learning this stuff.
No one can fix your financial life for you.
You have to take control of your money today.
Manage Your Money Like A Boss comes with a money back guarantee- so you have nothing to lose and everything to gain.
Frequently Asked Questions
When does the course start and finish?
The course starts now and never ends! It is a completely self-paced online course - you decide when you start and when you finish.
How do I know this course will teach me strategies I don't already know?
I've personally gone through tons of popular financial courses and what I found is while there are some gems, most of the other courses are focused on cookie cutter information. They are teaching you things like the importance of balancing your checkbook, or how you should borrow money for higher education because it's a guaranteed return. They aren't focusing on the stuff that gets your results and eases your stress levels right now. While I can't guarantee you've never heard of some of the strategies, I can guarantee that my style of teaching and experiences working with a diverse group of people will help you transform your life.
Does this course cover the specifics of investing, insurance, and credit?
Not really. This course doesn't cover exactly how to trade stocks, specifics of options, which insurance plans you should be considering and how to manipulate your credit. 

Frankly, there's a time and place for that information. And it's now what matters most when you're trying to pay off debt and live on a budget.
Why would I spend money on this course instead of just putting it towards debt?
Every year that goes by where you don't learn how to manage your money directly costs you in extra stress, missed opportunities, and paying thousands of dollars extra on interest than you should. Why would someone hire a personal trainer? We all know the information is available on YouTube, blogs, medial journals, and magazines. But for some people investing in a personal trainer that provides accountability, education and helps implement sustainable healthy habits is well worth the couple hundred dollars a month. The same is true for our financial education. Keeping your head in the sand and waiting until the time is right is a crappy strategy. I am certain that this course will get you going on the right path, allowing you to save tons of money, pay off debt faster than you thought you could, earning interest instead of paying it, and achieving your goals faster than you could if you tried to learn this the hard way. But that's also coming from someone who will happily pay for advice and strategies that saves me time and money in the long run.
What if I don't like to budget? Do I really have to?
The short answer…. yes. Budgeting is absolutely critical to getting control over your expenses and monitoring your progress. In this course, we embrace budgeting with both arms. I find that most of my clients and students that hate budgeting in the beginning, actually fall in love with it later because they learn how to use it appropriately. Most of the time people who hate budgeting haven't found a system that works and feel like a failure every month when they can't stick to it. Thankfully, that's not this course.
Will this course eliminate the need to hire a financial coach?
It can! I love working 1:1 with people, but financial coaching is much more of an investment than courses and not something recommend people dive into first. I always think getting a basic understanding of the Manage Your Money Like A Boss strategies is best place to start.
How long do I have access to the course content?
Your purchase of this course gives you lifetime access to the content, videos, bonus materials and updates of the course. I hope you revisit the materials from time to time. :)
Course Curriculum
Start Here
Available in days
days after you enroll
MODULE 1: Mind + Body + Soul (The Critical Part Of Getting Your Sh*t Together)
Available in days
days after you enroll
MODULE 2: The Fundamentals
Available in days
days after you enroll
Your Instructor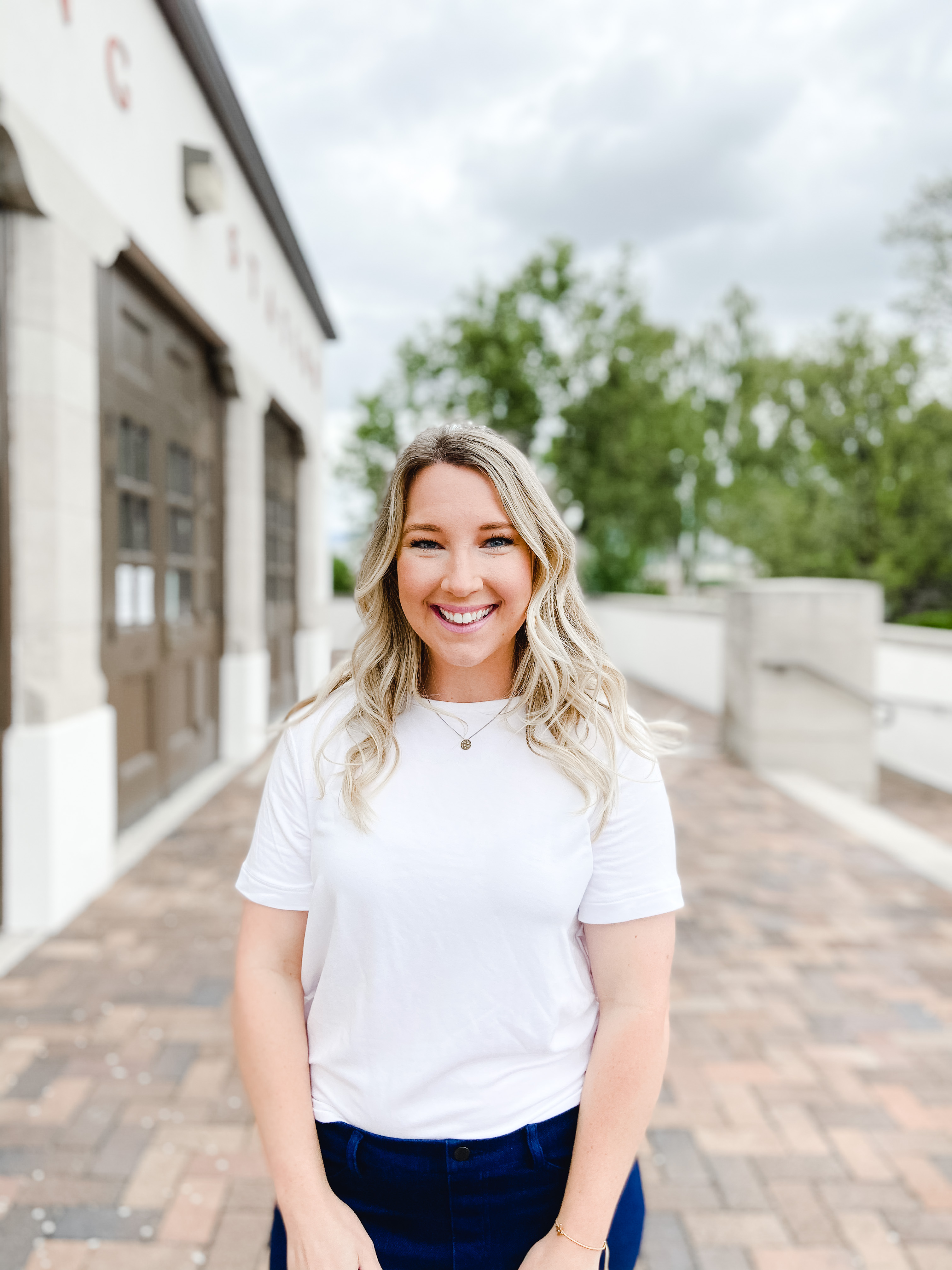 Whitney Hansen is a financial coach, speaker, and host of the award winning podcast, The Money Nerds. She has been featured on Forbes, CNBC, ESPN, Yahoo! Finance, Ally and frequents local news channels. After paying off $30,000 in 10 months, hacking her way to a $472 MBA, and buying her first home at 19, she discovered her love for helping Millennials take control of their financial life.
In her free time she travels frequently, teaches college students about personal finance as an Adjunct Professor, and tests side hustles for fun. She lives in Boise, Idaho.